DESCRIPTION AND DESIGN: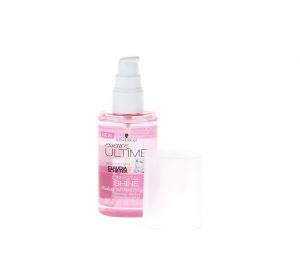 This pink serum by Schwarzkopf has little in common with natural oils because its purpose differs from a typical oil's action. Essence Ultime Crystal Shine wasn't designed to regenerate and nourish hair deeply but to provide it with instant shine and beautiful look to all hair kinds. Indeed, the product features a natural oil, but it isn't the main ingredient of the cosmetic. Moreover, Essence Ultime Crystal Shine doesn't look a typical natural oil. It isn't yellowish and its fragrance is strong and sweet.
It was designed mainly for women with coarse and rough strands to stop worrying about their dull hair, especially when they have a great event like banquet, public speech or date in their agenda.
The cosmetic can be used every time when hair needs immediate 'pimp-up' and needs to amaze with good look. In these cases, Essence Ultime Crystal Shine comes to the rescue.
The cosmetic is closed in a small bottle of 75 ml capacity. Essence Ultime Crystal Shine goes with a small pump, that works without malfunctioning and facilitates dosing the product. There is no need in applying the product in great quantities, therefore the cosmetic is fairly efficient (enough for over a one-month-long treatment). Essence Ultime Crystal Shine has pleasant, pink colour. It was enriched with apricot seed oil, that is responsible for making hair glossy and conditioned. What is more, the product contains approximately 70% oleic acid, from Omega-9 group. It is a godsend for exceptionally weakened and dehydrated hair. Ultime Crystal Shine is responsible for keeping hair flexible. Apricot seed oil is also favourable for curly hair owners since this natural substance defines the natural curve of strands. Thanks to the oil, curly hair stops frizzing as the hair ends are protected against damages.
DIRECTIONS FOR USE:
The label of the product doesn't state clearly how the product should be applied. All that can be learnt is the fact that Essence Ultime Crystal Shine can be applied before shampooing, right after shampooing as well as for fixing a hairdo. The period of time that has to be devoted to leaving the cosmetic on hair isn't defined. What is more, there is no info whether the product should be applied to dry or wet hair.
PLUSES:
interesting design
pleasant fragrance
good at delivering gloss to hair
contains UV filter
tames unruly hair
easy application
MINUSES:
it cannot be used for oil hair treatment
small quantity of natural oil
the manner of use is not defined precisely