DESCRIPTION AND DESIGN: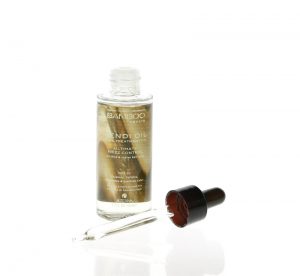 Kendi Oil Ultimate Frizz Control Pure Treatment Oil is closed in a small bottle of 50 ml that goes with a precise dropper. The package is very aesthetic, its tonality is warm; beige and brown colours are the main shades of the bottle. It is very well developed as far as the bottle's design is concerned. Definitely, it stands out and doesn't look like a typical hair care product available in a store. The cosmetic really attracts attention.
Inside the bottle, there is a blend of oils where organic Bamboo oil is the domineering one. It thickens hair and adds volume. Moreover, bamboo oil prevents frizz and makes hair stronger and healthier. Fortunately, the list of beneficial action the product delivers isn't over. Kendi Oil Ultimate Frizz Control also contains number of other natural oils, like jojoba oil, buriti oil, wheat oil, grape seed oil, kukui nut oil, avocado oil, olive oil and passionfruit oil. This set of natural oils is mixed in such a way to supply hair with the vital vitamins (A, E, K, D, C). This set is considered crucial for healthy grow and maintaining strands' condition at good level. Oils are able to penetrate deep inside hair due to fatty acids. Once inside hair, oils start fixing its structure, nourishing, moisturizing and strengthening from the roots ends. What is more, oils protect hair against any possible mechanical damages and adverse influence of wind, frost and the sun.
Furthermore, Kendi Oil Ultimate Frizz Control contains carrot extract, which is known as a rich source of beta-carotene. This substance is able to protect strands against harmful solar radiation as it slows down scalp and hair ageing processes. Also, it normalizes work of sebaceous glands and stimulates production of collagen fibres.
Aloe extract halts penetration of toxins. Moreover, it delivers moisture to strands and prevents frizz.
The prestige of Oil Ultimate Frizz Control is defined by its amazing composition, which is free from parabens, mineral oils, phthalates and paraffin. Ingredients used for the product are organic and eco-friendly.
DIRECTIONS FOR USE:
Kendi Oil Ultimate Frizz Control Pure Treatment Oil is efficient. 4-6 drops of the oil are enough for a single coating. They have to be applied to damp, freshly shampooed hair. The product can be applied to dry hair as well. However, in this case, it is suggested applying more drops.
PLUSES:
diversity of natural oils
product free from harmful substances
eco-friendly and organic ingredients
can be used as an overnight treatment
very efficient
beautiful package (can be recycled)
pleasant fragrance
great and rapid outcomes
MINUSES:
one has to be careful because it is easy to drop the applicator