DESCRIPTION AND DESIGN: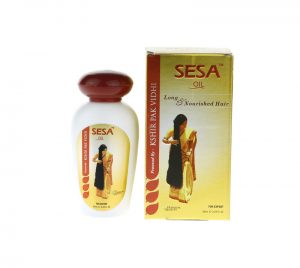 Ayurvedic technique that depends on proper balance of precisely selected herbs, milk proteins and oils is called Kshir Pak Vidhi. It is believed that Kshir Pak Vidhi is the best recipe of hair regenerating and healing action that this ancient medicine has ever given to people. SESA brand, famous for combining ayurvedic wisdom and modern technology, as one of just a few applied this method for designing their products.
Hair oil SESA OIL, Long & Nourished Hair is a world-known cosmetic designed according to Kshir Pak Vidhi recipe.
A small, white and inconspicuous bottle with a red cap doesn't gain trust. In fact, it looks rather rustically when compared to other hair caring products that are widely available in shops. Surprisingly, this product hides a diversity of natural ingredients, cunningly selected herbs, milk proteins and natural oils, that are very essential when it comes to hair care.
SESA OIL, Long & Nourished Hair is a special treatment which can be administered to restore hair and scalp good condition. It helps those people who fight against hair loss, dandruff and even psoriasis. Hair gains shine, strength and flexibility. Thanks to deep bulb nourishment, hair starts grow faster. SESA OIL, Long & Nourished Hair will also stop premature hair greying processes.
The product contains, among others, bringraj and nilibhrungandi oil, which significantly accelerate hair growth. When treated with these oils, hair grows stronger because their bulbs are reinforced. Thanks to this, hair gains volume, becomes thicker and more flexible. Wheat proteins are characterized with high concentration of vitamin E, which is responsible for hair and scalp rejuvenation. Moreover, the oil prevents water loss as it regenerates hair well. Coconut oil protects hair against any mechanical damages by creating a microscopic layer around each and every hair. It is a shield protecting hair against adverse weather conditions. Sesame oil supplies hair with vitamins from B group as well as many other precious minerals, like for example, magnesium, calcium and phosphor, to help hair grow healthy and amaze with its beautiful look. Sesame oil soothes scalp and protects it against any irritations.
This inconspicuous bottle has 90 ml capacity. Because of the high concentration of herbs, the product isn't only green but also very runny. Unfortunately, this doesn't facilitate application of the cosmetic. Also, its fragrance isn't considered as the product's asset. It might not only irritate the person who applies it on their hair but also people around might get distracted by Kshir Pak Vidhi's strong aroma.
DIRECTION FOR USE:
The oil has to be rubbed into scalp and hair and left overnight. In the morning, hair has to be shampooed. Best if the cleansing cosmetic doesn't include SLS nor SLES in order not to disturb action of the oil.
PLUSES:
effective if used regularly
diversity of natural oils
can be used for oil hair treatment
dis absorbed well
MINUSES:
coconut oil can make high porosity and medium porosity hair frizzy
package that doesn't facilitate application
very intensive, irritating fragrance
isn't efficient