DESCRIPTION AND DESIGN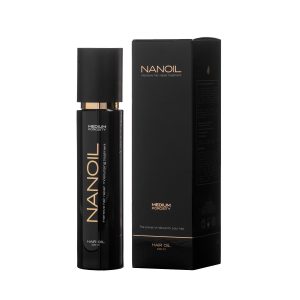 Nanoil hair oil amazes mainly with its composition and the professional approach to hair care. A few-year-long research concerning the human hair structure was the trigger to create three different Nanoil versions so as to make the oil ideally match a particular hair porosity type; and the hair porosity is the main criterion deciding on hair condition and look. As a result, each version of the oil has a different blend of natural oils. Thanks to this, Nanoil poses the ideal synchronization with hair, its type, and needs. The producer provides precise descriptions of each three types of hair porosity on Nanoil web page. Therefore, choosing the right version of Nanoil causes no problems. Also, impressive is the fact that each of the three Nanoil versions amazes with the number of natural oils it is composed of (there are from 6 to 9 of them depending on a particular Nanoil version). The natural oils are selected carefully and complement one another so as to let hair be provided with the maximum of care and make strands beautiful, stronger and healthier. Their action is additionally intensified thanks to the range of natural ingredients that are irreplaceable when it comes to hair regeneration and nourishment. For that reason, in all Nanoil versions we can find: silk, lanoline, unique and innovative complexes (kerastim and bicapil) that are responsible for stimulating hair growth, counteracting hair loss and improving the thickness of a hairdo.
When applied regularly, Nanoil stops hair from falling out and makes strands grow healthy, strong, dense and beautiful. Hair will astonish with its shine (from the very first application), gain softness and stop getting damaged due to the sun, toxins and the environmental factors. Instead, hair becomes strong from the roots to the ends, as the gaps in the hair's structure will be filled.
DIRECTIONS FOR USE
Nanoil hair oil's another, indisputable plus is that we can decide how and when to apply the product. The hair oil has an endless number of possibilities concerning the application. The most popular are:
– applying Nanoil to dry or slightly damped hair and the scalp (rinsing it after an hour or leaving it overnight to wash hair in the morning)
– applying Nanoil to damp hair right after shampooing (as a live-in conditioner of heat protection factor)
– applying Nanoil to dry hair after washing (in the form of a lotion to tame and deliver gloss to hair)
– applying Nanoil to the hair ends only (as a serum for damaged hair ends)
– adding Nanoil to a favorite hair conditioner in order to intensify its action
PLUSES
 Nanoil is three versions of hair oil each of them perfectly harmonized with a particular hair type
 lacks parabens, silicones, and other comedogenic substances
 unique complexes (kerastim, baicapil) stimulating hair growth and thickening a hairdo
 the oil slows down hair loss
 very efficient
 beautiful aroma and an exclusive bottle, featuring a precise applicator, which will decorate each bathroom
 each version has plenty of various, well-selected natural oils
 several ways to use the oil facilitates adjusting the application of Nanoil to the lifestyle and its pace as well as choosing the most favorable hair caring treatment
MINUSES
price of Nanoil (for quality and prestige you have to pay a slightly higher price)
Website: www.nanoil.us