DESCRIPTION AND DESING: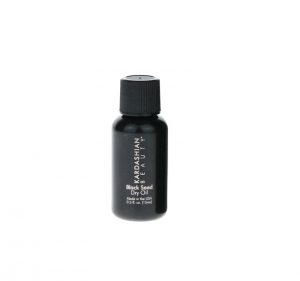 Faroukis is famous for designing high quality hair cosmetics. One of the brand' most characteristic features are reasonable price and untypical design: tiny bottles of 15 ml capacity hiding very efficient products that are valued by the users.
Special attention has to be paid to 'black oil' – Kardashian Beauty Black Seed Oil. This product gains people's interest because it is said to be designed by Kardashian sisters.
What does this tiny, black, plastic bottle Kardashian Beauty Black Seed Oil contain?
The main ingredient of the oil is mentioned in the product's name black seed oil. This oil contains high concentration of the following fatty acids: Omega-6 (approximately 60% of linoleic acid), Omega-9 (approximately 23% of oleic acid), as well as small quantity of alpha-linoleic acid from Omega-3 group. Hence, the oil is ideal for high porosity hair, extremely fatigued, dehydrated and regeneration-requiring. What is more, black seed oil contains vitamin E, also known as 'the vitamin of youth', which maintains hair's good condition and protects strands. For health and beauty of hair are responsible sterols, biotin and numerous anti-oxidants and microelements; all of them can be found in black seed oil, certainly. Thanks to these elements, hair becomes smooth, moisturized and flexible.
Kardashian Beauty Black Seed Oil also contains silk proteins. Liquid silk smooths hair and provides appropriate level of moisture by locking water inside the strands. Thanks to this, hair becomes soft to the touch, silky smooth and remains in good condition longer.
Kardashian Beauty Black Seed Oil is easy to be applied to hair. It is efficient and has light consistency. A single drop is enough to coat hair evenly. Moreover, the product is absorbed fast and does not weight hair down. The only drawback of the product to mention, the black bottle is not transparent, therefore it is hard for a user to see how much of the oil has been already used up.
Compact size of Kardashian Beauty Black Seed Oil makes it a perfect cosmetic that can be used while travelling. It doesn't occupy much time and can be treated as irreplaceable conditioner, which can be applied to both damp hair and to dry hair. We can put the oil on strands a few times per day. The product will protect hair against the sun and adverse weather conditions. At the same time, Kardashian Beauty Black Seed Oil gifts hair with beautiful look and makes strands more manageable.
DIRECTIONS FOR USE:
One drop of the oil is enough to coat damp or dry hair. There is no need to rinse the oil off.
Kardashian Beauty Black Seed Oil can be applied to hair ends only.
PLUSES:
great quantity of black seed oil
low price
efficient despite its small capacity
easy application
contains liquid silk
MINUSES:
black seed oil might make low and medium porosity hair frizzy
strong, oriental fragrance that not everybody finds pleasante
black bottle that doesn't facilitate checking how much oil has been used up
can't be used for oil hair treatment